In this special co-curated program with Light Adelaide, light and sound will converge over four electric weekends to present some of the most cutting-edge new music locally and nationally.
Fostering collaboration with visual storytellers and a live lineup of musicians and DJs from different disciplines, each weekend will be a testament to talent, artistry, and above all, good times.
Program
Friday 07 July - Slowmango and The Bait Fridge Present: Hypercolour Miscellaneous Bistro Buffet
Saturday 08 July - NAIDOC Week Event: Tilly Tjala Thomas, Rob Edwards, and DJ MoZzi
Friday 21 July - Tanzer
Saturday 22 July - Tralala Blip
Friday 28 July - MXG Presents: Joshua Wells & Karina Utomo, House of Vnholy, Messianic Gloss, Baby Monet & Lily Potger, Georgia Oatley & Joe Fuchsen, and Ratboy
Saturday 29 July - Thandi Phoenix
This event was funded partially by the Australian Government through the Australian Research Council (ARC), as part of the ARC Linkage project  'Rebooting the Muse' at the University of Adelaide.
Audience Survey
With funding from Australian Research Council, The University of Adelaide is exploring the relationship between the performing arts, wellbeing, and technology through research that incorporates Live @ The Lab 2023.
You are invited to participate in a 15 minute online survey to contribute to this study. Participation puts you in the draw to win 1 of 5 vouchers valued at $50 AUD each. This study invites submissions from audience members, artists, and crew involved in any capacity.
"The Lab is the most exciting venue I've seen!"
— Rob Broderick a.k.a Abandoman
Program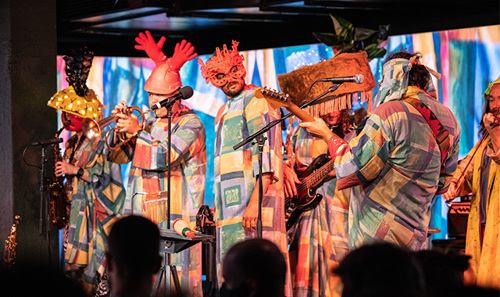 Returning after their sold out Illuminate Adelaide Live @ The Lab performance in 2022, this will be a night for the books. Slowmango have worked tirelessly on their new album Hypercolour Miscellaneous, an audible feast, served fresh to you! They will be accompanied by meticulously selected artistic performance pairings from sister group The Bait Fridge. These pairings have been specifically designed to highlight the subtleties and complexities of this rich musical and visual experience.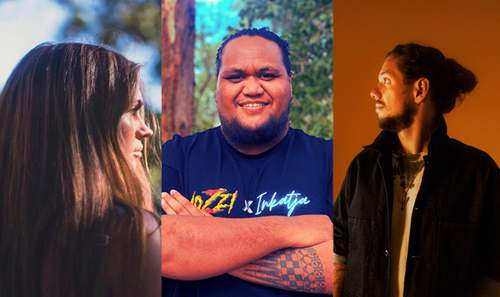 To celebrate NAIDOC Week, we've put together an unmissable triple bill featuring Tilly Tjala Thomas, Rob Edwards and Dj MoZzi as part of Illuminate Adelaide Live @ The Lab! Immerse yourself in back to back performances from three incredible artists for a night of vibrant storytelling, mesmerising rhythms and cultural exploration in a dynamic homage to NAIDOC Week.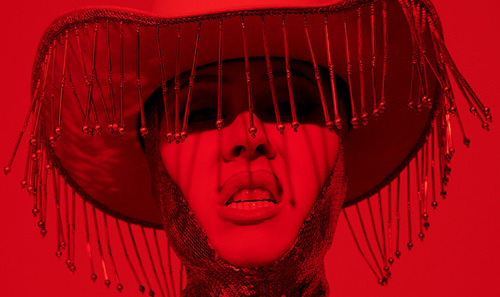 Tanzer is in the business of escapism - and escape you shall. The musician, director, and diva is also a shimmering DJ force, injecting romance and glamour into Australian clubs and beyond. She's a connoisseur of the 'deep fried disco' genre and a master of holding a dancefloor, transporting ecstatic crowds to another time and place.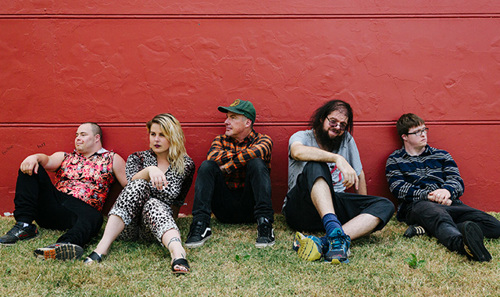 Tralala Blip are an Australian unit of differently-abled musicians hailing from the Northern Rivers of New South Wales. Over the past decade they have carved out a unique position in the Australian electronic music community. Working to overcome challenges imposed by their disabilities, Tralala Blip have created a range of approaches to instruments, performance, and composition that allows them to seamlessly create music and visuals.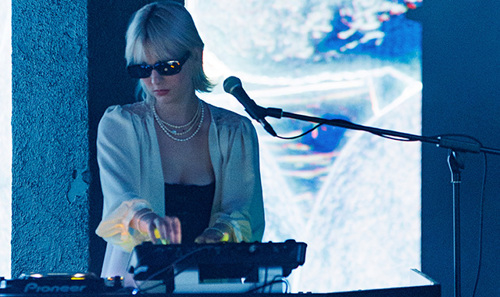 MXG presents their annual take over of The Lab at Light Adelaide for a night of transcendent sonic and visual experiences as part of Illuminate Adelaide. With a lineup featuring the mesmerising performances of Naarm artists Joshua Wells and Karina Utomo, accompanied by visuals from House of Vnholy and Messianic Gloss. There will also be a new collaboration between Baby Monet and Lily Potger performing Oceanus Illuminare, as well as Georgia Oatley and visuals by Ratboy. Expect to be fully immersed in the ecstatic extremes of the experimental, improvised and transformative.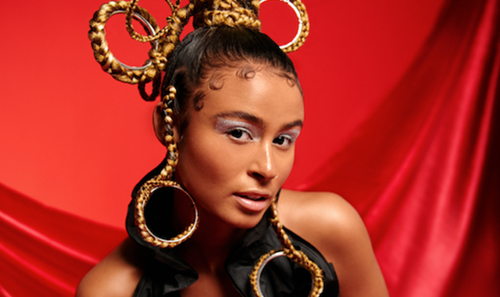 Thandi Phoenix is a dynamic artist, an accomplished songwriter, and vocal powerhouse with a magnetic energy and commanding stage presence. The Sydney born South African / Australian roots her artistic beginnings in Soul and R&B. Over the years her scope of sonic influences widened and she developed a deep love for electronic music and began experimenting with her sound. She really hit her stride with her unique take on dance infused pop.
WHEN
Each weekend, Friday and Saturday
From Fri 07 - Sat 29 July
ACCESSIBILITY
The Lab and its outdoor bar Beags are both accessible by wheelchair. However moving between the two spaces requires an alternate route through our restaurant Aurora. All staff onsite will be able to provide you with directions. The toilets in Beags are not wheelchair accessible but there is a wheelchair accessible toilet inside.

Companion Cards are welcomed. Please email [email protected] if you have any questions or require assistance on accessibility needs. 
EVENT NOTES
Warnings
Heavy use of strobe lighting
Haze effects
Fast motion content