In conversation led by the Director of Cox Architecture Adam Hannon, hear from this dedicated panel of international City Lights artists at the forefront of digital media on their craft, approach and viewpoints for creating site-specific artwork.
This inaugural event will feature French architect and place maker Jacques Rival (I LOVE ADELAIDE), British designer and fabricator Chris Carr (FUTURES), and British installation artists Gemma Davis and Michael Davis (Illumaphonium).
Whilst it is not mandatory to wear masks to enter make history The Art of Place Making we encourage patrons to protect themselves by wearing a mask.
Image: Wangu Poles, Kaurna Learning Circle, Karra Wirraparinangku, University of Adelaide by Paul Herzich and Chris Oaten of Oxigen
Presented in partnership with Panellists
Lucid Creates is the result of the creative partnership between Chris Carr & Helen Swan.
They are a design & fabrication studio who create spectacular structures, spaces and art pieces across a range of disciplines, with a specialism in integrating visual tech.They have established a reputation for creating impactful installations that result in intensely memorable experiences for audiences.

In their workshop in rural Kent, they work with a diverse range of creators, materials and tech to design and build installations for spaces from Glastonbury to Ibiza and everywhere in between.
Since 2010 Lucid Creates has created installations for cities and organisations across the world including: Wembley Park, Quintain, Culture Liverpool, City of Culture 2025, Glastonbury Festival, Soho House, Pacha, Festival Republic, Live Nation, Broadwick Live & Manchester International Festival.

See Lucid Creates work FUTURES as part of City Lights.
Within the relatively new genre of light art, Illumaphonium are leading the field when it comes to interactivity, blurring the boundaries between entertainment and art, creating fully participatory illuminated installation work for public spaces around music and musical instruments – which by their very nature are hugely interactive.
They strive to create truly believable and authentic experiences for their audiences, something to be experienced, not observed. Instilling a sense of awe and wonder in all those that encounter their work.
See Illumaphonium's work Halo as part of City Lights.
Since 2000 Jacques Rival's work has focused on combining many fields of creation, various tools and scales of work in order to create projects with great aesthetic impact through design, art installations and architecture.
He approaches all his projects with a sense of dream and wonder, with the aim of capturing the simplicity of childhood.
See Jacques Rival's work I LOVE ADELAIDE as part of City Lights.
Adam Hannon is an experienced architect and urban designer, Director of COX Architecture's Adelaide studio, and Alumnus of The University of Adelaide.
With a passion for enhancing South Australia's built environment, Adam's mark on our state is vast, including iconic projects such as Her Majesty's Theatre Redevelopment, the Adelaide Oval Redevelopment and Adelaide Botanic High School.
Throughout his career, Adam has created spaces that enrich culture, diversity, and public life within progressive and sustainable environments. This passion has developed over decades of work – but can also be attributed to his formative years at The University of Adelaide. Adam graduated with a Bachelor of Architectural Studies from the university in 1993, completing further study to gain his Bachelor of Architecture in 1997.
WHEN
Sat 16 July 2022
4.30pm- 6pm
Doors from 4pm
ACCESSIBILITY
Disability access is via a lift located inside the side entrance on the eastern side of the building. Once inside the lift, press 1 for the Elder Hall Auditorium or LG for the Rest Rooms
EVENT NOTES
Registration Required
While event is free, we please ask you to register your attendance via the link below.
City Lights
Enjoy Illuminate Adelaide's FREE city-wide centrepiece nightly from 15 - 31st July.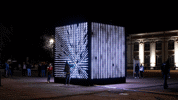 You might also like...