Illuminate Adelaide and the Government of South Australia through the South Australian Tourism Commission are partnering once again with innovative regional councils and award-winning artists to rise up for the mighty Murray River this winter.
Transforming the Mannum main township and riverfront, River Lights is set to shine bright across ten days and nights of immersive installations and dazzling light displays.
Rug up, hit the pavement and let the river call you as Illuminate Adelaide takes over buildings and parklands throughout this historic town with a showcase of cutting-edge art, light and technology.
Plan your winter river revival trip now and get ready to discover the magic of the Murray this winter and all the spectacular experiences the river communities have to offer.
Presented in association with Program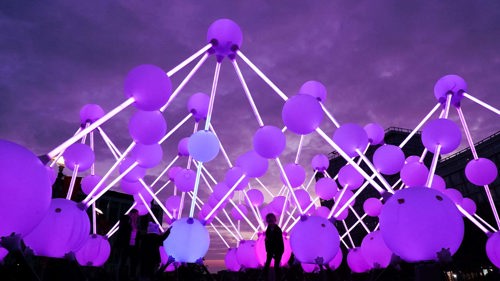 by Amigo and Amigo
With a design inspired by the complexity of the human brain and each individual globe represented as a memory, this intricate light and sound installation activates on touch to send those memories traveling throughout the structure. The longer you touch a globe, the longer the memory lasts. Music by Otis Studios and Oliver Pieterse.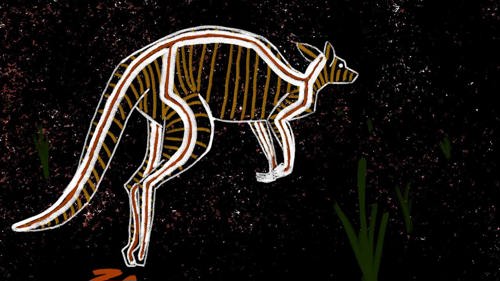 Curated by Dearna Newchurch
Featuring Carly Tarkari Dodd, Jaydenlee Tong and Temaana Yundu Sanderson-Bromley
Developed by Monkeystack
In this special Illuminate Adelaide series curated by Dearna Newchurch, see contemporary First Nations artists leveraging the emerging technology of Augmented Reality as a storytelling platform. Harnessing this technology through a First Nations lens, Augmented Revolution reimagines our device as a powerful tool to express ways of knowing and being.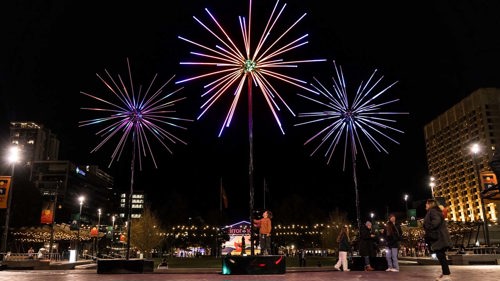 by Liquid PXL
Awe-inspiring constructions by day, endless digital display by night, Liquid PXL's Electric Dandelions will light your way throughout River Lights. Standing a whopping 28 feet tall and previously presented in New York City, Toronto, Los Angeles, and Jerusalem, Electric Dandelions are enthralling electric fireworks that will enchant everyone from old to young.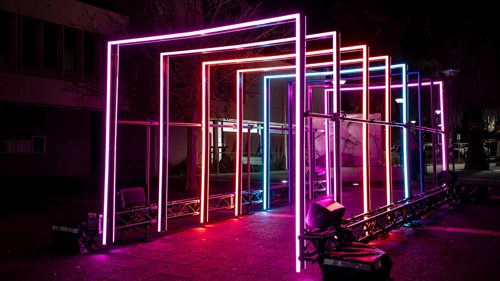 Walk through the glowing Electric Tunnel with it's ever-changing colours, sounds and surprises.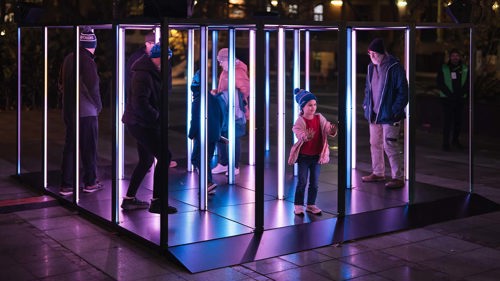 by Miles Dunne
Particles and waves come to life in Proximity State, an interactive installation by Illuminate Adelaide South Australian Graduate Pathway Program artist Miles Dunne. Breathtaking from afar and lots of fun up close, enter the Proximity State grid and explore how your movements affect light and sound around you. 
Graduate Pathway Program Partner: James and Diana Ramsay Foundation
Volter International's art installations are bright enough to liven up even the greyest of South Australia's day and nights.
Vibrant and glowing bright at night, these touchable works are created with LED Neon Flex – a revolutionary new replacement for glass neon giving you an immersive 3D multicolour experience.
River Lights will enjoy three works by Volter International – Neon Angel Wings, Neon Dog Park and I Am Here.
Neon Angel Wings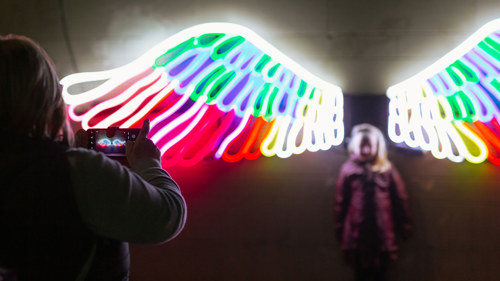 Neon Dog Park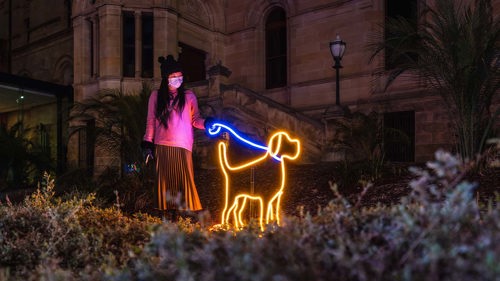 I Am Here