Session sold-out online? No problem! Walk-Up tickets are always available at the Architects of Air Box Office.
A global phenomenon for the past thirty years, the inflatable mazes of UK-based Architects of Air have transported audiences of all ages from around the world to alternate realms of the not-quite natural.
Through their series of Luminaria, Architects of Air create illuminated, inflatable structures that are somehow both expansive and cosy, providing spaces to explore and spaces to rest. As you choose your own way through each Luminarium, you'll have a calming, sensory-driven experience guided by sound, light, and colour.
In an Australian premiere, the latest instalment in these innovative experience-makers' series of installations is Arborialis – a labyrinthine wonderland that recalls the light-dappled canopies and awe-inspiring trunks of forests around the world. Featuring a soundtrack straight from the world's most untouched ecosystems, Arborialis is the perfect place to wander, explore, and relax, losing yourself in the twists and turns of each branch of the Luminarium.
Please note Arborialis is a place to wander, explore and relax - once inside, please walk and keep to the paths. Excessive noise, running, jumping and sliding down the Luminarium walls is strictly prohibited.
Image: Jane Barlow
Presented in association with Insite Arts
Created by Alan Parkinson and Architects of Air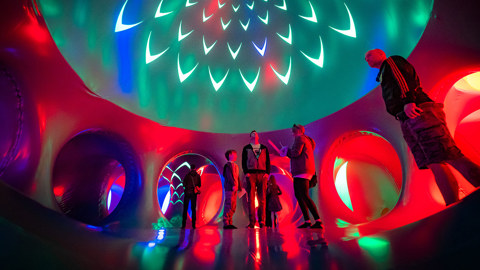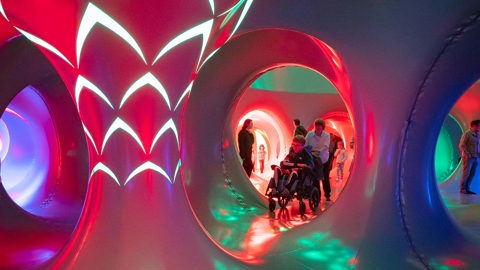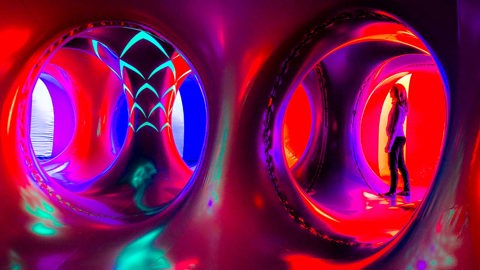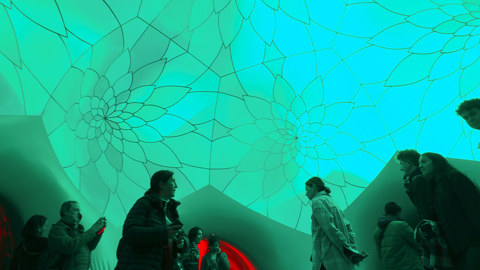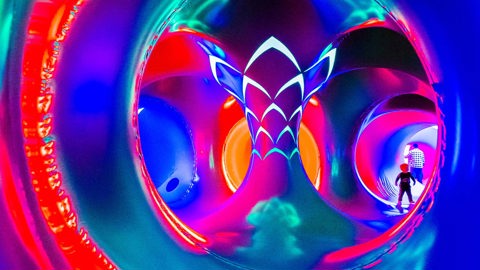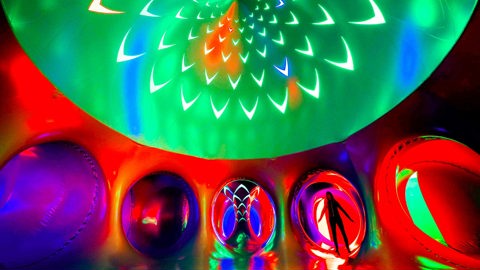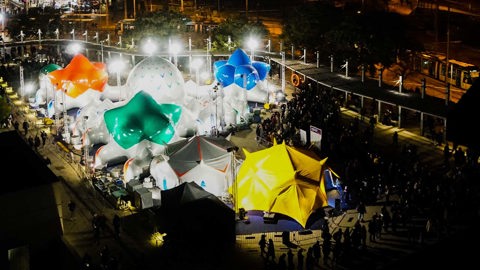 WHEN
Sat 01 - Sun 23 July
Architects of Air: Arborialis will admit visitors within these times:
Closed 03 - 04 July
Open from 4pm, 05 - 07 July
Last Entry
8.30pm Sun - Thu
10pm Fri - Sat
WHERE
Rymill Park/Murlawirrapurka
Corner of Rundle Road and East Terrace
Get directions
TICKETS
Groups 4+
$15.00
price per person
2 years and under
FREE - however a $0.00 ticket is required for entry
Children 16 years and under
Must be supervised by a parent or adult guardian at all times
Child Supervision
Entry to the luminarium is subject to supervision of a maximum of 4 children per adult guardian.
Online Bookings
Pre-plan your visit: a limited amount of tickets are available for pre-purchase online for priority entry at a booked time. Advanced ticket holders will have priority admission up to 30 minutes from the time indicated on the ticket - a small wait should still be expected. If pre-sale tickets are exhausted, there will be on-site walk up tickets available. Online tickets are not available for the first 30mins and final 1hr of Architects of Air: Arborialis opening times.
Walk-Up Tickets
On-site tickets are available for walk-up purchase during opening hours, on a first come-first served basis. Walk-up ticket holders will be admitted where capacity allows; a large queue may be expected.
ACCESSIBILITY
Architects of Air: Arborialis is easily accessible via wheelchair.
Architects of Air: Arborialis is a high visual content event with no dialogue.
Please note that assistance dogs may not enter Architects of Air: Arborialis.
EVENT NOTES
Admission
SESSION TIMES ARE INDICATIVE ONLY. ENTRY SUBJECT TO QUEUEING.
Walk-up tickets available at venue box office - admission wait times will incur.
Duration
This is a self-guided experience on a non-linear path - once admitted, please allow 20 minutes to enjoy the full Architects of Air: Arborialis experience.
Warnings
Please be advised this event includes dark pathways/corridors and uneven terrain.

No shoes are to be worn within Architects of Air: Arborialis. Visitors will be able to leave their shoes at the reception tent prior to entry. 
This event will go ahead rain or shine.
Ticketing Info
A 2% Merchant Service Fee (credit card fee) applies. To find out more about our Ticketing Policy, please click HERE
For Companion Card booking information, please click HERE
FAQs
Questions? Visit our Architects of Air: Arborialis FAQs HERE
Base Camp
Back for another round in 2023, Base Camp is the perfect place to start or finish your night out!
Located a stone's throw from the Architects of Air: Arborialis North Terrace gate in Rymill Park /Murlawirrapurka, grab a drink or a bite to eat to begin your Illuminate Adelaide journey.