Illuminate Adelaide and the Government of South Australia, through the South Australian Tourism Commission, are partnering with innovative regional councils and award-winning artists to shine a light on South Australia. 
In Depth is a large-scale multimedia event responsive to the Murray River, its history and the community of Renmark. Projection, sound and lighting transform the river and banks after dark as the local habitat is transformed to celebrate one of the river's oldest residents.
A collaboration between Craig Walsh, local artists and community members, this project draws people to the river's edge to experience an unexpected encounter, rich in history and an experience sure to evoke new stories and mythologies related to this time and place.
The central riverbank precinct adjacent to the Renmark Club will come to life with projections, story, sound and a chance to witness the arrival of some mysterious inhabitants from the deep.
Joining Craig Walsh will be Carla O'Brien's Neon Winter installation. Let Neon Winter light you up and embrace the chill while you wander through the installations to capture the perfect glowing photo.
Images: Frankie The Creative
Ngurunderi Dreaming Story
Taking place on Erawirung Country, we pay our respects to the Ngaiawang, Ngawait, Nganguruku, Erawirung, Ngintait, Ngaralta and Ngarkat people who have occupied parts of the Murray-Darling River system for thousands of years and lived in harmony with the land and the river's cycles of flood and drought.
The water that flows through and the country that surrounds us holds enormous cultural and spiritual significance for each of the traditional owners and clans connected to it. As the river flows south into the lower Murray River in the Ngarrindjeri lands, the river brings its own Dreaming story with Ngurunderi as one of the great ancestral Dreaming 'heroes' of the Ngarrindjeri people.

Narrated by Ngarrindjeri man and Riverland local Shane Karpany. Sound Design by Brett Canning with assistance from Year 10 Service Learning students at Lindisfarne Anglican Grammar School.
Local mural depiction of the Ngurunderi Dreaming story mounted in Berri created by Garry Duncan, Shane Karpany, Jason Karpany, Elsie Sumner and Isaac Lindsay
Presented in association with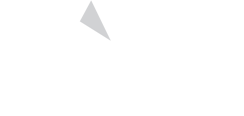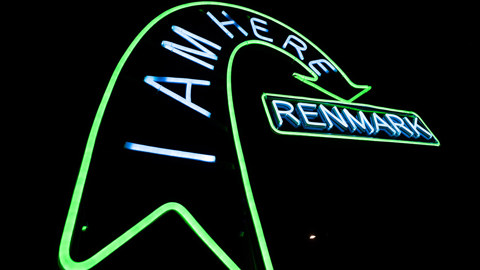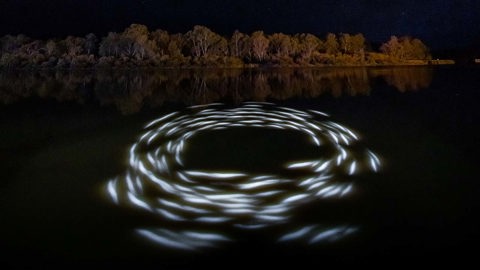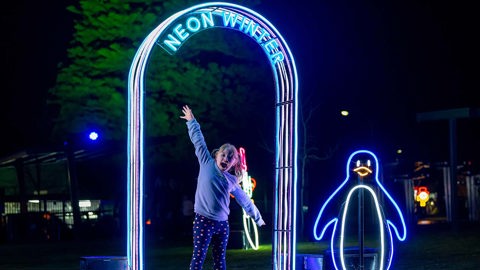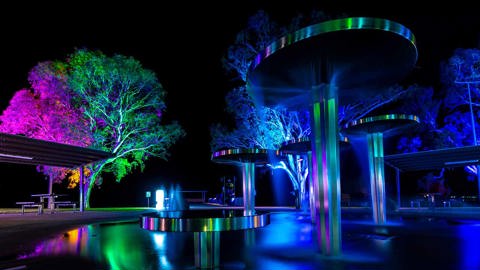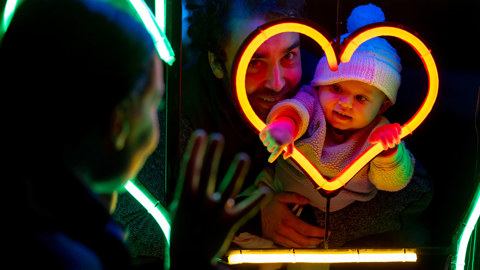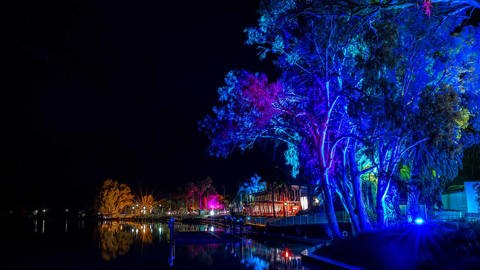 Program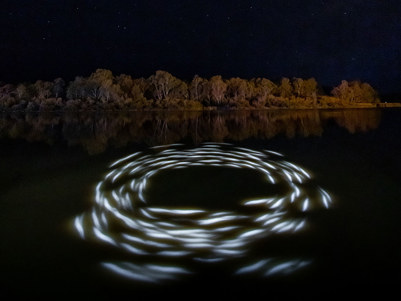 Craig Walsh interviewed a host of Renmark locals, focusing on mythological creatures and cultural connections. After these interviews, it became clear that the focus of the work would have to be the Murray Cod. Its once abundance presence has now found an elusive and almost myth-like existence. Will you catch a glimpse of this rare and important species?
Australian artist and creative producer Craig Walsh is internationally known for his pioneering approaches to site-responsive installations, sculpture and projection mapping unconventional sites. His works have animated natural and built environments and features such as trees, rivers and mountains, as well as public art projects in urban and architectural space.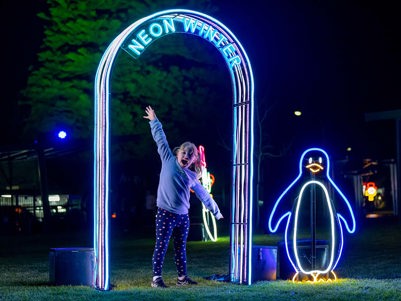 Neon Winter

Carla O'Brien's Neon Winter light art installations are bright enough to liven up even the greyest of South Australia's day and nights. 
Vibrant and glowing bright at night, these touchable works are created with LED Neon Flex – a revolutionary new replacement for glass neon giving you an immersive 3D multicolour experience. Take a selfie with a cute Big or Baby Penguin, 'wear' a pair of oversized Neon Mittens or give a Big Neon Snowman a hug.
About Carla O'Brien
Carla O'Brien's career as a visual artist began in 2009 after experiencing the world renowned Burning Man festival in Nevada, USA. Her primary medium is LED Neon Flex, a revolutionary replacement of traditional Glass Neon. She creates awe-inspiring neon art installations now seen at festivals and events and in restaurants, bars and in peoples' private collections. Her highly interactive neon installations are social media and crowd favourites.
You might also like...