It's time to sing the patriarchy into submission
An operatic video installation for an army of six girls and one war mistress.
We have been shown that a new order is paramount. These girls may just help take us there.
We Will Slam You With Our Wings is a seven screen video and sound installation. Each hanging screen depicts a 19th century colonial imperialistic portrait but with one noticeable difference. Instead of the lavish depiction of white powerful men, a young girl between the age of 8 to 16 stands in her own regalia and commands her own stance of power. Each girl each from a different continent, stands in her own room and in her own frame. Rather than being isolated from each other however, these young girls combined are the leaders, the army, the chorus, the pack, the collective, and the future voice
We Will Slam You With Our Wings is created by and features Joanna Dudley, the performer known for her ground-breaking collaborations with William Kentridge. Joanna Dudley is the chieftain and mentor encouraging the girls to take autonomy over their own voices and to create the world afresh.
We Will Slam You With Our Wings draws on another quintessential 19th century form and turns it on its head- the dramatic soprano's death aria in opera.
Each girl carefully recreates an operatic death scene representing the squirming heights of patriarchal fantasy. However, in their versions, the tragic fates of Dido, Tosca, Madame Butterfly, Salome, Brünnhilde and Suor Angelica take a decided turn for the better. Rather than being led to their deaths as we have grown to expect, this female army leads you to watch them loudly, playfully, proudly and unnervingly conquer.

Patriotic speeches from the world's male dictators and leaders proclaiming the declaration of war are not left unscathed. They are rewritten, re-screamed and re-performed in an entirely different way again, and for very different purposes and outcomes. Each screen runs simultaneously, creating not only a highly choreographed choir but also a polyphonic operatic sound score.
Powerful in their collective consciousness, the girls spawn an altogether different kind of social order, based on their own rules and their own wishes. The hunted becomes the hunter, the tamed controls,and the dying beauty takes her own revenge.

Also appearing as part of City Lights.

Image: Dudley/Meyburgh
Artist: Ruth Alice McIlleron, Tabatha Howard, Mpho Takane
Whilst it is not mandatory to wear masks to enter We Will Slam You With Our Wings we encourage patrons to protect themselves by wearing a mask.

Presenting Partner





Presented by arrangement with Arts Projects Australia



We Will Slam You With Our Wings would like to give thanks to

FUNDING ARCHANGEL
Brenda R. Potter

and to our supporting Angels
The William Kentridge Studio, Johannesburg
The Centre for the Less Good Idea, Johannesburg
The Whitechapel Gallery, London

The title, WE WILL SLAM YOU WITH OUR WINGS is based on Henry Darger's painting
We Will Slam Them With Our Wings
© 2020 Kiyoko Lerner / Artists Rights Society (ARS) New York
""WE WILL SLAM YOU WITH OUR WINGS, Joanna Dudley's wonderful seven channel video piece, shows again her immaculate, precise, yet raucous anarchy. She has taken her experience of voice and movement and used it as a protective embrace for six girls / young women. It offers many new insights and raises questions about what video performance can be.""
— William Kentridge
Creation and Sound Composition Joanna Dudley
Collaborator & Projection Design Catherine Meyburgh

Set and Installation Design Rufus Didwiszus
Costume Design Janosch Mallwitz

Sound Design & Final Mix Adam Howard
Digital Colourist C.A. Van Aswegen

Co-Creators and Performers
Beatrix Juno Dudley
Tabatha Howard
Kittu Hoyne
Esmé Olive Mcgrath
Ruth Alice McIlleron
Mpho Takane
with Joanna Dudley
WHEN
Fri 15 July - Sun 31 July
ACCESSIBILITY
Access to the Mortlock Wing of The State Library of South Australia is by lift via the library's main glass foyer entrance. 
EVENT NOTES
Entry
During daylight hours, access to the Mortlock Wing of The State Library of South Australia is via the main glass foyer entrance.
After 7pm Mon–Tues and 5pm Wed-Sun, entry to the Mortlock Wing will change. Please avoid the main foyer and enter via the Eastern side door. Those with access requirements may still use the main foyer entrance during this time.
City Lights
We Will Slam You With Our Wings is also appearing as a part of City Lights.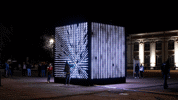 You might also like...