After winning over audiences in 2022, KLASSIK underground is bringing it all back home with a seven-piece A-team of Australian musicians assembled by curator Tahlia Petrosian. 
For part one of KLASSIK underground's 2023 Illuminate Adelaide encore season, Reverberating Rhythms enlists a select crew of inspired artists from around the country to traverse the parallel worlds of music, poetry and art.  
Join Petrosian as she leads this inspired ensemble encompassing flute, viola, harp, and four South Australian percussionists through a hand-picked program of John Cage, Tōru Takemitsu and Sofia Gubaidulina, matched with the blazing live visuals of acclaimed video artist Tim Gruchy. 
The result promises to be a remarkable concert experience infusing KLASSIK underground's globetrotting spirit with a shot of Australian talent. 
KLASSIK underground is supported by Ulrike Klein AO.
Image credit: Mic Gruchy
"...combining classical music with modern video installations - KLASSIK underground started as an experiment which then became a way of rethinking new concert formats."
— Tahlia Petrosian, founder
Program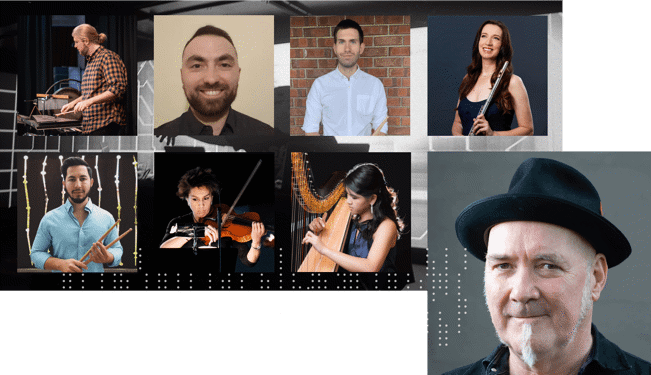 Jack De La Lande (Percussion) (ADL)
Max Ziliotto (Percussion) (ADL)
Ryan Grunwald (Percussion) (ADL)
Sami Butler (Percussion) (ADL)
Sally Walker (Flute) (ACT)
Tahlia Petrosian (Viola) (GER)
Yi-Yun Loei (Harp) (PER)
Visual Collaborator: Tim Gruchy
John Cage, Third Construction (1941) 
Tōru Takemitsu, And then I knew 'twas Wind (1992) 
John Cage, Living Room Music (1940) 
Sofia Gubaidulina, Garden of Joy and Sorrow (1980) 
WHEN
Fri 21 July
7.30pm
Doors from 7pm
ACCESSIBILITY
EVENT NOTES
Want to experience more KLASSIK underground?
Visit the event page below for a complete breakdown of KLASSIK underground concerts being performed at Dom Polski Centre.