Presented by Illuminate Adelaide and ANAT, New Light 2023 showcases experimental and diverse moving image works by contemporary First Nations artists.
Following a national call out, New Light 2023 will feature commissioned work that explores compelling and complex concepts, with artworks being exhibited on the media screens at the entrance to the Adelaide Festival Centre as part of Illuminate Adelaide's City Lights program.
This year we are delighted to announce that we have three successful artists commissioned for New Light 2023!
Congratulations to: Chantel Bates, Elizabeth Close, and Jonathon Saunders.
The New Light program has considerable lineage. A series of moving image works were first commissioned by ANAT (Australian Network for Art and Technology) in association with the City of Adelaide for the 2017 TARNANTHI: Festival of Contemporary Aboriginal & Torres Strait Islander Art. Four contemporary First Nations artists created short experimental projection works, which screened as part of the East End Moving Image program in Adelaide.
The National Film and Sound Archive of Australia went on to support the work to screen at the Enlighten Festival, Canberra in 2018. In 2019, two of the New Light artists were selected to present their work at ISEA2019 in Gwangju, South Korea.

Presented with ANAT in association with Adelaide Festival Centre's Moving Image program.
'Beeyali' by 2021 New Light commissioned artist Lyndon Davis
Image credit: Frankie The Creative
CHANTEL BATES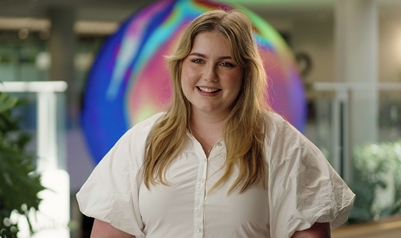 Chantel (Shonny) Bates is an Indigenous mixed media artist, interdisciplinary designer and visual communicator currently located in Meanjin. Her contributions to the Indigenous community are formed organically through connections with mob, she is devoted to strengthening and promoting inclusion of First Nations voices in the development Indigenous art. Heavily inspired by community, she takes pride in using her knowledge to create storylines that hold an impactful voice for herself and those around her. She holds a Bachelor of Design from Queensland University of Technology majoring in Visual communications. Chantel incorporates her ever growing knowledge of country into teaching and takes pride in reclaiming this rich culture to implement an Indigenous voice into future learners.
Project Title: Echoes
Echoes draws on commonly shared experiences of Indigenous people in Australia and focuses on Chantel's intrinsic relationship with land and Country. This knowledge then echoes. Their bloodlines echo. Their teachings echo. But do these echoes stick around? Or merely come and go with their spirits? Chantel's contemporary video art explores these experiences and shares the histories of the landscapes that surround us. To deeply connect with Country as it lives and thrives through yesterday, today, and far into the future.
ELIZABETH CLOSE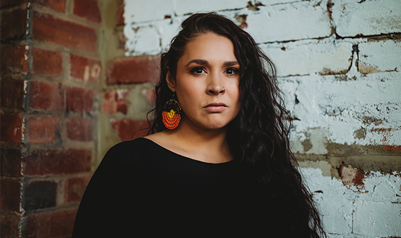 Elizabeth Close is a Pitjantjatjara and Yankunytjatjara woman and a professional established Contemporary Aboriginal Artist living and working on unceded Kaurna Country. She has spent the past 14 years crafting a dynamic multi-disciplinary visual arts practice that speaks to both her own personal Connection to Country, and the concept of connection to place and space more broadly. She works in the mediums of 2D studio based-works, large scale muralist, installations and digital media.
Project Title: Beneath
Beneath is an extension of Elizabeth's large-scale public arts practice - a practice built on increasing the visibility of Aboriginal Arts and Culture - creating a sense of place and belonging and challenging perceptions. Elizabeth exists in the Contemporary arts space, juxtaposing her studio practice with large scale work. As an artist, Elizabeth draw on a practice of street art which whilst largely considered to be a very recent and contemporary phenomena; in reality, it draws on the very ancient practice of Landscape Painting - the Cultural Modification of the Landscape as observed in such practices as the Cultural marking or modification of trees, and Cave Painting. Elizabeth is continuing this; modifying the urban landscape; underpinned by a practice that is tens of thousands of years old.
JONATHON SAUNDERS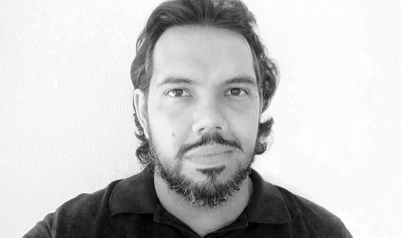 Jonathon Saunders is a Darwin based Indigenous illustrator and animator. While born and raised in Darwin, Jonathon is a member of the Woppaburra indigenous people, from the Kanomie clan of Keppel Island in Queensland. Jonathon's artwork focuses strongly on comic book and superhero iconography and re-contextualizing those images within an Australian urban setting. Jonathon explores the themes of morality, heroism and identity. Jonathon is the creator of the award winning animated mini series Zero-Point Season Zero. Jonathon continues working as a freelance animator, storyboard and illustrator, working on numerous freelance projects and commercial work, he is also the co-creator of Wild North Comics, an anthology comic that features comics from artists around NT and beyond. Jonathon regularly publishes new Zero-Point stories in Wild North Comics.
Project Title: One Minute to Midnight
One minute of explosive authentic animated Australian Superhero Action! Indigenous superhero Zero-Point stops a mugging by some post-humans during a midnight patrol. When it comes to diversity in media, Jonathon goes by the philosophy of being the change you want to see. The character Zero-Point is a love letter to everything he enjoyed in comics and animation. Jonathon wanted to create a cool superhero that just happened to be Indigenous, instead trying to make an 'Indigenous Superhero' as there is no one way of being Aboriginal. Jonathon wants One Minute to Midnight to entertain and inspire young artists to create their own stories and start animating.
WHEN
Fri 07 July - Sun 23 July
WHERE
Adelaide Festival Centre Media Screens,
Adelaide Festival Centre, King William Road
Get directions
City Lights
New Light 2023 is also appearing as a part of City Lights.