It's been a decade since Poland's internationally-renowned festival of experimental music first laid down roots in South Australia, keeping Adelaide's finger on the pulse of the most original and surprising sounds being made on the planet right now. And ten years later, that pulse is beating louder than ever.
Across its network of likeminded cities and outposts, Unsound has an unparalleled track record for cultivating truly unique concert experiences. Now it's Adelaide's turn once again for festival goers to enjoy its latest lineup of artists and producers breaking the rules to push music into new and dangerous waters.
Returning to Adelaide's Polish heartland the Dom Polski Centre across two dedicated nights on 14 & 15 July, and expanding into the new Hindley Street Music Hall on 16 July with a set from Mercury Prize-winner Oneohtrix Point Never and a supporting performance from CORIN, Unsound Adelaide's 10th anniversary promises to be as bold and bracing as ever.
Image: Rafal Dominik Studio
Curated by Mat Schulz and Gosia Płysa
Line up subject to change.
FRIDAY 14 JULY
Unsound Adelaide kicks off with Ukraine's Heinali, who streamed a concert live from a bomb shelter in Ukraine soon after the Russian invasion - at Unsound Adelaide, he will perform a similarly powerful set on a modular rig. Danish ambient musician Sofie Birch joins forces with otherworldly Polish vocalist Antonina Nowacka with a show built around the enigmatic, gorgeous music from their acclaimed album Languoria.
Triptych is a new live audio visual show by Robin Fox, a next level exploration of light and sound inspired by the work of Australian-Polish visual artist Stanislaw Ostoja Kotkowski – who happens to be the creator of the monument right outside Dom Polski Centre. Afterwards, things amp up even further with Hyperdub boss Kode9's A/V show Escapology, featuring some of his most thrilling rhythms yet. Famed for her lyrics about motherhood and sexuality, underground rapper bbymutha closes the night with a high-energy show.
SATURDAY 15 JULY
The second Unsound Adelaide night at Dom Polski Centre spans a spectrum of sounds, opening with duo Divide//Dissolve, who strive to destroy white supremacy through instrumental music that is heavy, pummelling, and beautiful. Genre-melting Space Afrika creates mosaics of rhythm, texture, and dialogue in an emotive show. Appearing with a band, Guatemalan cellist, vocalist, and composer Mabe Fratti will present her unique collision of pop, improvisation, and noise.
Blurring ambient with dazzling rhythmic workouts, cult favourite Huerco S performs a rare live show. From Uganda, Nyege Nyege affiliated electro acholi pioneer Otim Alpha ends the night with a bang, performing with Leo Palayeng to present a plugged-in, polyrhythmic take on traditional Larakaraka wedding music that is fast and fun – get ready to dance!
"...recalibrates one's concept of how powerful live music could and should be. "
— The Guardian
HINDLEY STREET MUSIC HALL - SUNDAY 16 JULY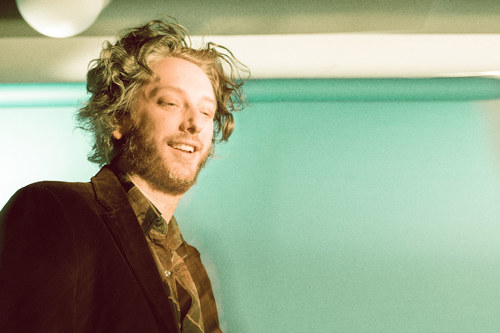 Musician, composer, producer, and Mercury Prize winner Daniel Lopatin - aka Oneohtrix Point Never - has made a name for himself producing mesmerising tunes that blend soaring orchestral tones with new-age electronic sounds.
Supported by CORIN, see Oneohtrix Point Never for one night only at Hindley Street Music Hall Sunday 16 July.
Presented by Illuminate Adelaide x Unsound
Dom Polski Centre Program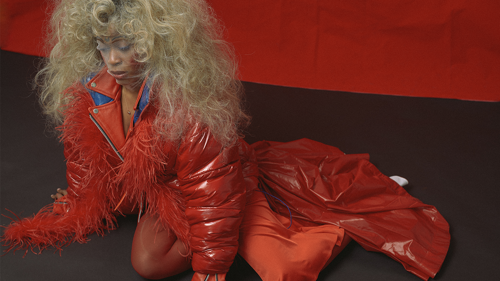 Famed for her myth-busting lyrics on sexuality, motherhood, and identity, Tennessee rapper and vocalist bbymutha is one of underground hip hop's most daring and admired talents: an absolute female force of nature.
Sometimes vulgar and never shy, bbymutha is open, honest, and real. Heavily influenced by Southern culture, bbymutha candidly blends her life experiences into hard-hitting raps, unapologetically celebrating women for their ambition, savvy, and sexuality. In an ice-cold Chattanooga drawl, her sharp and provocative lyrics - openly sexual, feminist, and positive - are leisurely wrapped-around beats that are typically endemic to experimental and electronic corners of the internet.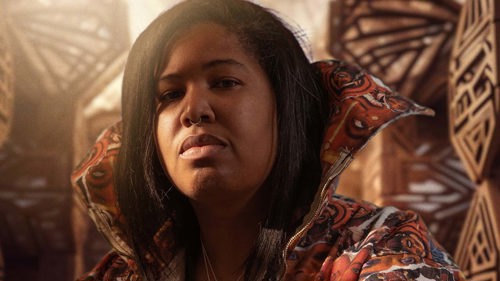 Music is a powerful tool, but few have flexed their artistry for change as vigorously as Divide // Dissolve (aka Divide and Dissolve). The band continuously uplift their ancestors' fight, with each performance a stepping stone in securing a Black and Indigenous future, demanding Indigenous sovereignty, and ending white supremacy. Their latest album, the earth-splintering Gas Lit, was produced by Unknown Mortal Orchestra's Ruban Neilson and garnered rave reviews.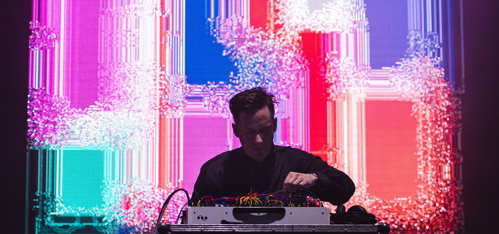 Oleh Shpudeiko - aka Heinali - is a Ukrainian music composer and sound artist. Specialising in electronic music and modular synthesis, and taking inspiration from Early music and medieval polyphony, Oleh writes music for games, films, choreography performances, and sound art installations, and performs live shows. His compositions and installations have been commissioned by The Museum of Modern Art (MoMA), The National Art Museum of Ukraine (NAMU), and The Museum of Odesa Modern Art (MSIO).
Heinali's latest album KYIV ETERNAL (2023) is a tribute to his home city, and has been described as "...a ravishing audioscape of the Ukrainian capital" (A Closer Listen) and "...a citywide portrait of beautiful resolution" (New York Times). Performing on a modular synthesiser, Heinali's live show is inspired by the polyphony and monophony of the High Middle Ages.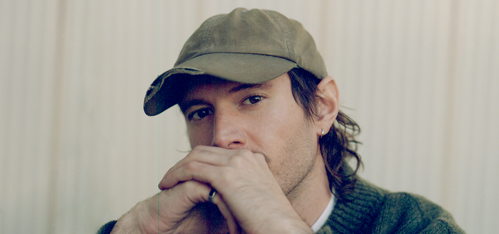 Fueled by an ethos less bound by genre and more bound by feeling, Brian Leeds - aka Huerco S - makes music for the mind and for the floor, finding lost artifacts and carving out sounds that speak to an altered state of home or place. Music that plays tricks on your brain, music that makes you question or surrender your mind, music very much rooted in audio archaeology and personal exploration. Through his label West Mineral Ltd., Huerco S creates beats that are purposely off-kilter, striving to create esoteric music in esoteric times.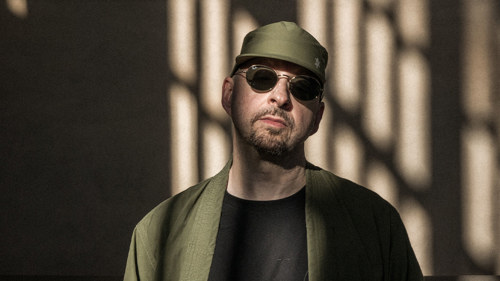 Kode9 is a DJ, artist and writer who founded the record label Hyperdub in 2004 and sublabel Flatlines in 2019. He has recorded 5 albums, 2 with the late vocalist The Spaceape -  Memories of the Future (2006) and Black Sun (2010) - and 3 solo albums: Nothing (2015), Escapology (2023) and Astro-Darien (2023). For his set at Unsound Adelaide, Kode9 will perform Escapology, based on the fictional video game Astro-Darien, in which we take off from a spaceport in the highlands of Scotland to escape from a disintegrating UK.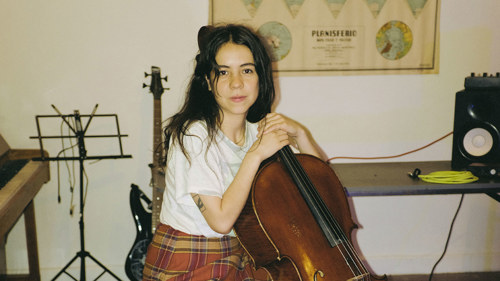 Guatemalan cellist and composer Mabe Fratti is a musician always striving for the triumph of experimentation over technical dominion of an instrument. The experimentation of sound with feelings and with existence itself, always with an open heart, letting herself to be transformed by what she lives and hears. This is what has led her to Mexico City from Guatemala. Mabe Fratti works range from the creation of pop songs to free improvisation, from the academy to noise, from collaborations in ensembles and duos to the profound personal journey that is reflected in her solo works.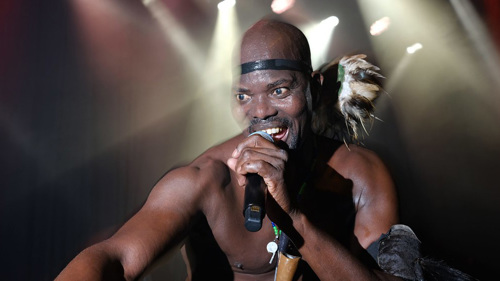 Traditional adungu and nanga harp master and singer Otim Alpha got his musical start as a wedding ceremony leader in his native Gulu City and is one of the few musicians to pass down and preserve Acholi folk traditions.
A little like Omar Souleyman, who performs Syrian wedding songs over digital keys and programmed drums, in 2001 Otim Alpha and producer Leo Palayeng took the traditional Larakaraka wedding music of the Acholi people of Northern Uganda and South Sudan and remade it with computer software, synths and electronic drum-kit beats. The result was a newer hyper-frenetic electronic version known as Acholitronix. Since then his pioneering concepts have inspired an exhilarating micro scene, synthesizing electronic sounds and traditional instrumentation into fast-paced, polyrhythmic genre primed for dancefloor madness.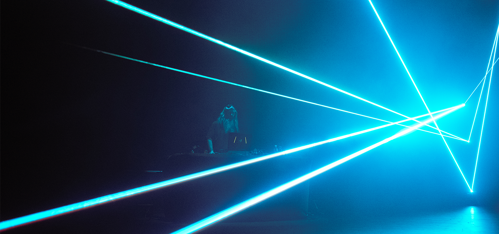 Robin Fox is an internationally recognised Australian based audio-visual artist working across live performance, exhibitions, public art and composition for contemporary dance. His audio-visual laser works, which synchronise sound & visual electricity in hyper-amplified 3D space have been performed in over 60 cities worldwide. Described as an "audio-visual space-time carving", his new work TRIPTYCH, which premiered at Unsound Krakow 2022, incorporates three RGB laser projectors that work in synchronicity to realise a full-colour geometry unlike anything you've seen or heard before.
Fox is co-founding director of MESS (Melbourne Electronic Sound Studio) a not-for-profit organisation dedicated to giving everyone access to the entire history of electronic musical instruments. He has written a Masters thesis on the history of experimental music in Melbourne 1975-9 and holds a PhD in electroacoustic composition from Monash University.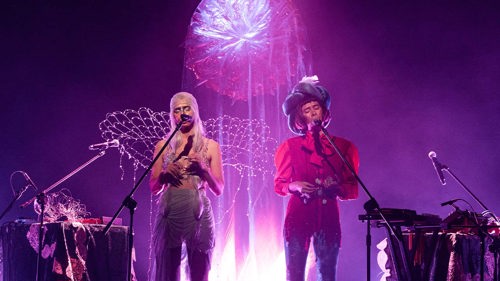 Danish sound artist Sofie Birch and Polish experimental singer Antonina Nowacka initially met at 2021's Ephemera Festival for an impromptu collaboration as part of the night-long ambient concert Infinity O'Clock. A spark emerged from the combination of the two artists, leading to another collaboration at Unsound Festival the same year. After their second performance, the artists joined forces with Unsound and Mondoj to create a collaborative release: Languoria.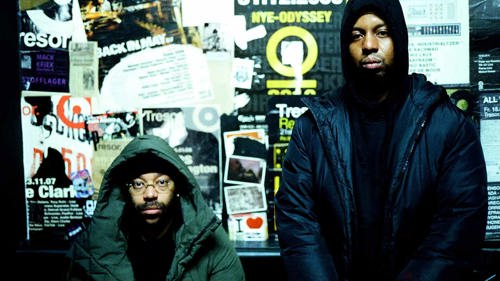 Manchester's Space Afrika make music of what they term 'overlapping moments' – oblique mosaics of dialogue, rhythm, texture, and shadow, half-heard through a bus window on a rainy night. Early releases were sparse, spacious yet intimate electronic abstractions, partly inspired by their observations of industrial landscapes and experiences of life in the north of England.
Their 2021 release Honest Labour builds on that sparsity with classical strings, shimmering guitars, and visionary vocal cameos, and was lauded by the likes of The Guardian, Pitchfork, and Libération.
WHEN
Unsound Night #1
Fri 14 July
Doors from 6pm
Unsound Night #2
Sat 15 July
Doors from 6pm
Unsound Night #3
Sun 16 July
Hindley Street Music Hall
8pm
Doors at 7pm
TICKETS
Unsound Night #1 - Dom Polski Centre
$80.00
General Admission
Unsound Night #2 - Dom Polski Centre
$80.00
General Admission
Door price each night - Dom Polski Centre
$90.00
2 Night Pass - Dom Polski Centre (Friday and Saturday only)
$140.00
while allocation lasts
Unsound Night #3 - Hindley Street Music Hall
$75.00
General Admission (sold separately)
ACCESSIBILITY
EVENT NOTES
SHORTLIST
Add to your shortlist for future reference
Book Tickets
Want more Unsound?
Enjoy Unsound Club for a searing line-up of late-night DJs and electronic music playing until the early hours of the morning.